The Future of Health, Wealth and AgeTech
Medicarians is nearly here! Medicarians is the only place to network and learn from thousands of experts across the senior health, wealth, and agetech ecosystems. Max is excited to participate as a Moderator for two panels during the event. Learn more about those sessions below and explore the full agenda here.
Added Benefit Selection With Utilization and Outcomes in Mind
Food delivery, fitness classes, home remodeling…it's no wonder that many seniors are attracted to the ever-increasing added benefits in Medicare Advantage plans. But how can we make sure that added benefits actually deliver on their promise? How should plans evaluate which benefits truly improve health outcomes and drive down costs? How should benefits make their case, and help seniors learn about (and keep using) what they offer? We'll tackle all these questions and more, helping seniors get the full benefit of their benefits.
Financial Security and Income Planning
What fun is it to age gracefully if you cannot afford it? When thinking about health, it is all too easy to ignore one very important type of health, financial health. It is not easy. More money solves many things, but more money is not necessarily a realistic option for the vast majority of the aging population. How can we elevate the topic of financial wellness in conversations about senior health? How can physical health and financial health be more intertwined? How can those serving one part of the equation help those working the other? What are the options, new ways of thinking, and/or new technologies that are now available that weren't previously? Join this panel as we discuss the inextricable links between senior health AND wealth.
It's not too late to register - click here for $200 off your ticket!
---
Founder Series Podcast
Last month we had the opportunity to hear from these four incredible founders during Season 2 of the Founder Series Podcast. Listen to their interviews here!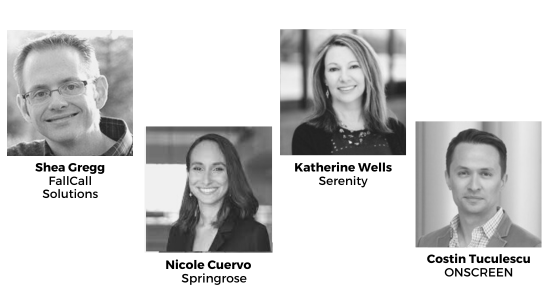 ---
March Highlights
CVS Health announced that it will complete its $8B acquisition of Signify Health after first being announced in September 2022 (Home Health Care News)
Healthcare startup Transcarent is bulking up its portfolio by snapping up a portion of virtual care company 98point6 in a deal valued at $100M (Fierce Healthcare)
Brightwood Capital Advisors lead a $300M Senior secured credit facility to support Giving Home Health Care's strategic growth initiative (Yahoo Life)
Gravie, an employer health benefits company, raised $179 to build a health plan 'worthy of consumer love' (Twin Cities Business)
Wellvana Health, a value-based care platform for healthcare providers, secured an $84 million capital investment to support its growth in U.S. markets (MobiHealthNews)
Neurotechnology company Cognito Therapeutics, a startup using visual and auditory stimulation to treat neurodegenerative disorders, raised $73M in a Series B funding round which will be used to advance the study of its neuromodulation device (MobiHealthNews)
FIRE1 raised $50M in a recent Series C funding round to advance its remote heart monitoring technology (Fierce Biotech)
Clever Care Health Plan, a culturally-inclusive Medicare Advantage health plan company, raised $42M in Series C funding to continue its growth and outreach in advance of the 2024 Annual Enrollment Period (FinSMEs)
Maribel Health, a company that helps health systems design and deliver advanced home-based care services, completed a $25M Series A (Home Health Care News)
Empassion Health, which provides complete care for patients with advanced illness, raised $20M in a recent funding round (SEC)
Wellth, developer of app-based digital health programs that improve adherence to patients' care plans, reeled in $20M to scale up its behavioral economics approach to tackle chronic conditions (Fierce Healthcare)
OpenLoop, provider of white-label telehealth support services, raised $15M in a recent Series A funding round to accelerate growth and expand operations (FinSMEs)
Midi Health, a virtual care clinic for women, scored $13.87M in recent funding (SEC)
Ryse Health, an Arlington, VA-based hybrid diabetes care provider, raised $6.5M led by Route 66 Ventures, with participation from W Health and Healthworx (Axios)
Iron Health, a tech-enabled virtual care partner empowering OB/GYNs and their patients, launched with $4.5M in Seed funding to close gaps in women's health (Femtech Insider)
New startup Bionic Health, which is changing the way that annual physicals are performed, emerged from stealth with $3M in funding (Axios Raleigh)
Rook, (previously known as RookMotion), a B2B SaaS company providing health data and insights, raised $1.7M in Pre-Seed funding which will be used to accelerate growth, expand operations and its business reach (FinSMEs)
Opkit, a New York, NY-based provider of a health insurance verification platform, raised over $1M from Global Founders Capital, Mischief, Socially Financed, Y Combinator, and Rex Salisbury (FinSMEs)
---
Around the World

Medwing, a Berlin, Germany-based digital HR management platform for healthcare, raised €44M in Series C funding which will be used to enhance its market position in the UK and Germany (FinSMEs)
Madrid-based home care startup Senniors, which provides home care services for older people and others who need support, scored $5.6M in Seed funding (MobiHealthNews)
Preventative healthtech startup AERA Health raised €4M in Pre-Seed funding and launched its hybrid digital and physical offering in the DACH region (Fintech Finance)