A Year of Immense Growth
2022 was a huge year for Agetech. By our count there were over 250 Agetech deals completed, with 22 new unicorns created.
It was also a big year of growth for us here at Agetech News. We shifted the frequency of our newsletters from quarterly to monthly because there was just so much to cover. In the spring we created the website to provide a place to keep up with Agetech news daily, and over the summer we launched the Founder Series Podcast to highlight and elevate the voices of the inspiring entrepreneurs behind the news. We've heard so many incredible stories already and can't wait to release Season 2 in the coming weeks!
Another exciting milestone last year was the introduction of our Startup Directory, comprised of active startups working to improve the lives of older adults and their caregivers. Over the course of 2022 we added 1,000 startups to the directory to provide the most comprehensive source of information. We hope that you'll continue to use this complimentary resource to make connections and elevate the important work that you're doing in 2023.
---
A Year of Immense Growth

Devoted Health, a health insurance technology startup, raised a massive $1.1B Series D, sending valuation soaring past $12B with plans to expand across the country (MedCityNews)
Honor, one of the world's largest senior care networks, reached unicorn status after raising $370M in equity and debt, valuing the company at over $1.25B (Home Health Care News)
UK-based care platform Cera raised a £260M round of roughly half equity and half debt to grow the number of patients it supports by 500% and expand overseas (Sifted)
Omada Health, a digital care solution with personalized programs, hit unicorn status with $192M Series E led by Fidelity (Fierce Healthcare)
Aledade, which works with primary care providers to build tech-enabled accountable care organizations, raised $123M in a Series E funding round to offer more value-based care arrangements for seniors covered by Medicare Advantage (Mobi Health News)
Homeward, a healthcare delivery company focused on rural healthcare, announced a $50M Series B funding round (Mobi Health News)
Rippl, a mental health platform for seniors with memory care and other neuro-cognitive needs founded by former Aegis Living President Kris Engskov, launched with $32M in Seed funding (Senior Housing News)
CVS Health acquired in-home health care company Signify Health in an $8B deal to enhance their connection to consumers in the home and enable providers to better address patient needs (Senior Housing News)
Walgreens plans to take full ownership of post acute and home care company CareCentrix after starting the process to acquire the remaining 45% stake for $392M (Fierce Healthcare)
Private equity firm Rubicon Technologies has purchased a controlling stake in three senior living technology and data analytics companies—Glennis Solutions, Enquire and Sherpa CRM—in a move aimed at creating the industry's first "comprehensive, scalable end-to-end software solution (Senior Housing News)
Senior living engagement technology firm iN2L acquired LifeLoop in a move to unite platforms and offer a more integrated option for providers (Senior Housing News)
---
December Deals
Sonde Health raised $19.5M in Series B funding to globalize its voice-based disease screening technology (AXIOS)
Remote patient monitoring company, Alio, scooped up $18M in the first close of a Series C funding round, which will be used to scale operations (MobiHealthNews)
Cardiosense, a digital health company leveraging artificial intelligence and multi-sensor devices to enable early detection of cardiovascular disease, scored $15.1M in Series A funding to support team expansion and accelerate product development (VC News Daily)
SaVia Health, maker of clinical support software that can embed in an EHR, raised $8.5M in a Seed funding round to develop its self-authored platform and add to its library of off-the-shelf workflows (MobiHealthNews)
Carallel, which offers digital health and support tools for family caregivers, scooped up $8.2M in Series A funding which will be used to partner with more Medicare Advantage and commercial insurers and expand peer-to-peer support (MobiHealthNews)
Override, a multi-specialty virtual chronic pain solution, emerged from stealth with a Seed funding round of $3.5M (Business Wire)
Vizabli, a med-tech company providing interactive, touchscreen smart boards and mobile applications to hospitals, raised $2.5M in Seed funding to deliver new features (FinSMEs)
---
Around the World

Ubie, a Tokyo-based startup providing an AI-powered symptom checker app and hospital SaaS products, closed a $19M extension to its previous Series C round in order to fuel its expansion into the United States (TechCrunch)
Rest Less, a UK-based startup providing the older generation with with a digital community, advocate and advice platform, secured over €6.8M to expand its financial advice offering (EU-Startups)
UK-headquartered WeWalk, which is developing a "smart cane" for visually impaired people, raised $2.4M in venture funding to scale its business and advance the technology (TechCrunch)
Germany-based enna, which is minimizing the hurdles for older people to participate in the digital world, raised $350K EUR from Wayra Germany (Wayra)
---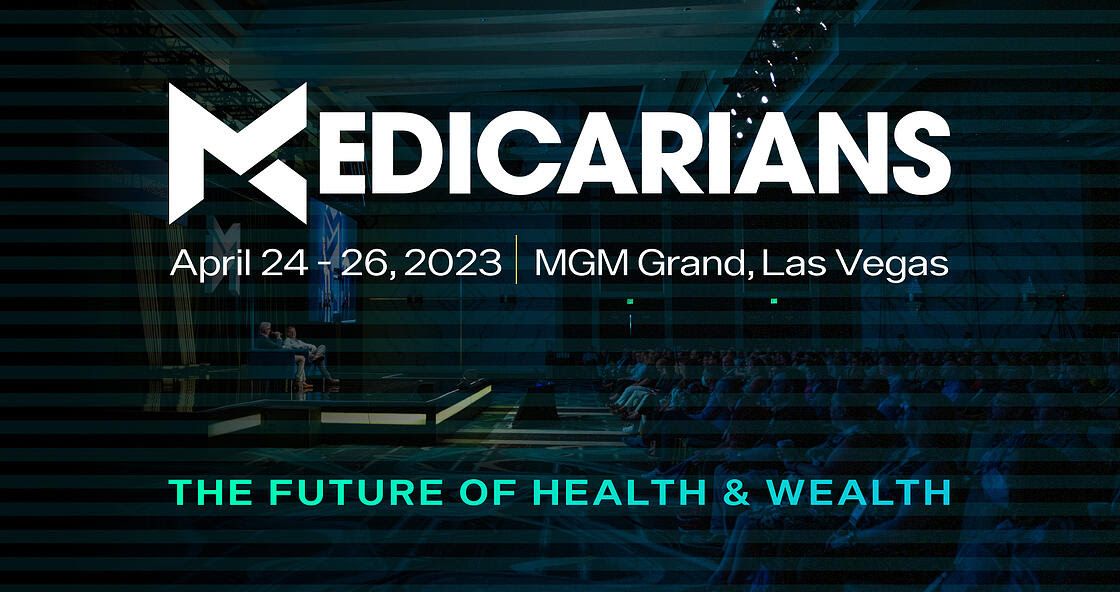 Agetech News is excited to participate in the upcoming Medicarians conference! Medicarians is the home of the product creators, distributors, provider networks, plan administrators, venture investors, and innovators helping people live longer and better lives: physically, financially, and mentally.
If you're interested in speaking or exhibiting, reach out to us at hello@agetech.news!