Innovating a better future
Our very own Sarah Thomas was the keynote speaker and pitch competition judge at the 2022 AGE-WELL Annual Conference. During her keynote. Sarah addressed the need to design products and experiences to meet the needs of the evolving consumer as we age.
As part of this three day event, the National Impact Challenge Pitch Competition was held to spotlight top startups in Canada's AgeTech sector. This year's winner, recipient of $20,000 in cash plus in-kind prizes, was PragmaClin which is helping patients with Parkinson's disease to better monitor their condition. The runner-up was Singular Hearing which has developed an app that turns smartphones into sophisticated hearing-assistive devices.
Check out #AGEWELL2022 on Twitter for a full recap of the conference and visit the AGE-WELL website to learn more about what they're doing to improve the lives of older adults.
---
Founder Series Podcast
In October we had the opportunity to hear from two incredible founders on our Founder Series Podcast. Listen to their episodes here!
If you know of a founder that you think should be featured on an upcoming episode, please email us at hello@agetech.news.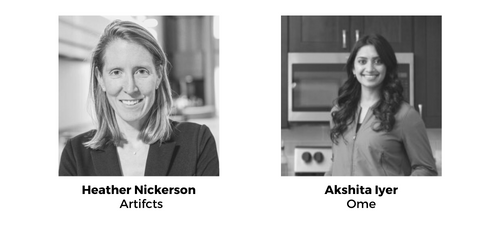 ---
October Highlights
Private equity firm Rubicon Technologies has purchased a controlling stake in three senior living technology and data analytics companies—Glennis Solutions, Enquire and Sherpa CRM—in a move aimed at creating the industry's first "comprehensive, scalable end-to-end software solution (Senior Housing News)
Digital menopause care delivery platform Gennev was acquired by Unified Women's Healthcare to expand Unified's goal to deliver better outcomes and an enhanced patient experience throughout all moments and milestones in a woman's healthcare journey (Mobi Health News)
Walgreens plans to take full ownership of post acute and home care company  CareCentrix after starting the process to acquire the remaining 45% stake for $392M (Fierce Healthcare)
Electronic Caregiver, a digital health technology and services company, scored $42.5M in funding to accelerate its rapid expansion (Benzinga)
Brave Health, a virtual-first behavioral health provider focused on serving Medicaid populations, secured $40M in Series C funding which will be used to build out its technology and data infrastructure to to power patient engagement (Fierce Healthcare)
Inbound Health, a new at-home care platform spun out from Allina Health and Flare Capital, emerged from stealth with $20M in new financing (MedCityNews)
Intus Care, developer of an analytics platform aimed at improving geriatric care outcomes, announced the close of a $14.1M Series A to maximize greater technological opportunities through data and grow their team (Intus Care)
Midi Health, provider of a virtual care clinic for women navigating midlife hormonal transitions, raised $14M in Seed funding to expand operations nationwide and launch partnerships with the largest hospital systems in the United States (FinSMEs)
Cionic, a startup building bionic clothing that can analyze and augment human movement, scored $12.5M in Series A funding which will be used to accelerate the manufacturing and delivery of its Neural Sleeve (TechCrunch)
Neurotrack, which is developing digital cognitive health tools, raised $10M and launched a three-minute digital assessment tool to screen for cognitive impairment during wellness appointments (Mobi Health News)
Index Health, which is providing a hybrid of in-home-care and telemedicine, raised $6M in Seed funding (TechCrumch)
Connective Health, an interoperability platform that enables integrated care between primary and specialty care, raised an undisclosed amount in Seed funding to bolster its market footprint among primary and specialty care providers (FinSMEs)
Insurance giant Genworth has teamed up with serial entrepreneur Timothy Peck, Founder of Curve Health, on a startup meant to redefine the way older adults connect with housing, services and care (Senior Housing News)
MUSC Health and MetroHealth announced a partnership to launch Ovatient, a virtual and in-home care company supporting clinical workflow across virtual and higher-level care (Mobi Health News)
Nuvance Health recently launched Neuroglee Connect, a new memory care-at-home platform that helps patients stimulate their brains and bolster them against cognitive deterioration with medically tested activities at home (Healthcare IT News)
---
Around the World
Patronus, a Berlin-based startup determined to relive the burden on carers in the face of Europe's demographic change, scored a €27M Series A (EU-Startups)
Dublin-based Yonder, an online platform to automate health insurance and retirement benefits, raised $2.6M in recent funding which will be used to accelerate product development and expand into new markets (FinSMEs)