Care Is Moving Home
Aaron Judge wasn't the only one swinging for the fences in September. Value-based care platform Signify Health was reportedly stoking a bidding war between Amazon, CVS, UnitedHealth and others to break the record for the largest home-based care acquisition. CVS took home the gold, offering $8B for the platform, topping UnitedHealth's $5.4B acquisition of LHC group back in March and Humana's $5.7B closeout of Kindred at Home. Just as impactful, despite being an order of magnitude less pricey, was Walgreen's acquisition of CareCentrix this month for $330M.
We've talked often these past years about how care has been moving into the home, something which significantly accelerated due to the pandemic. What we're seeing through these exits this year is the cementing of this trend, the recognition of the enormous value in serving people where they live, and the acceptance that this is the new normal in healthcare.
These giant transactions also signify how much more growth potential these healthcare behemoths still see in moving healthcare home. CVS isn't shelling out billions of dollars for a platform that's reached its pinnacle, they see trillions of dollars of opportunity and are hoping that Signify Health will help them grab it. Crazy as it may seem following all of this activity, we're expecting to see even more in the coming year. Stay tuned!
---
It has been absolutely incredible interviewing the entrepreneurs who are working to disrupt aging. Check out the founders we highlighted in September and catch up on any missed episodes of the Agetech News Founder Series Podcast here!
If you know of a founder that you think should be featured on an upcoming episode, please email us at hello@agetech.news.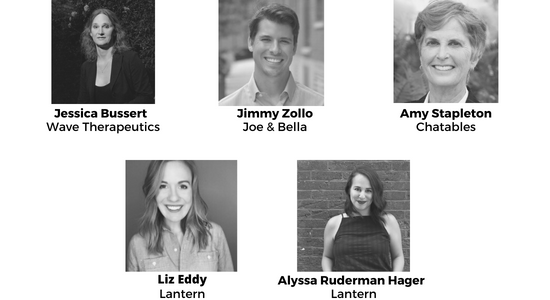 ---
September Highlights
🎉 CVS Health acquired in-home health care company Signify Health in an $8B deal to enhance their connection to consumers in the home and enable providers to better address patient needs (Senior Housing News)
🎉 Home-based care platform CareCentrix was acquired by the Walgreens Boots Alliance for $330M to deepen their reach into home-based care and improve their ability to address people's needs immediately following hospital discharge (Hospice News)
Redesign Health, a healthcare startup studio that has spun out more than 40 companies in four years including Agetech focused Duos, Keen, and Together Senior Health, closed a $65M Series C (MedCityNews)
Rippl, a mental health platform for seniors with memory care and other neuro-cognitive needs founded by former Aegis Living President Kris Engskov, launched with $32M in Seed funding (Senior Housing News)
Soda Health, which partners with payors to help members better utilize the supplemental benefits offered by their medicare plan, scored $25M in a Series A round (PR Newswire)
LetsGetChecked, which provides clinical solutions that allow for convenient management of patient care in the home, received $20M in a D-2 funding round by JPMorgan Chase (Fierce Healthcare)
TCARE, a caregiver support solution that partners with organizations using a value-based strategy, raised $17M in an oversubscribed Series A to hire at least 100 employees (St. Louis Inno)
InsideTracker, a personal health analysis and data-driven wellness guide designed to help people live healthier and longer, raised a $15M Series B which enables the company to enhance research and development efforts, expand marketing and support operations (PR Newswire)
Provider intelligence platform CertifyOS raised a $14.5M Series A to strengthen its automation software for clinician credentialing, licensing and enrollment (MedCityNews)
Following its FDA clearance, Cionic, creator of a powered assistive leg brace, raised a $12.5M Series A to accelerate manufacturing and delivery of the devices to those suffering from mobility impairment (Techcrunch)
Upfront Healthcare, an omni-channel communication and patient engagement platform, raised $10M to advance its capabilities (HIT Consultant)
Givers, a platform for which helps family caregivers take advantage of tax credits, state programs, medicaid reimbursements and more, launched with a $3.5M Seed round (Givers)
Kalogon, creator of a smart cushion for wheelchairs to prevent pressure injuries, raised $3.3M in Seed funding (TechCrunch)
Tuned, a hearing health company, raised $2.5M in Seed funding which will be used to scale employer adoption and bring comprehensive hearing wellness to the workforce as a specialty healthcare benefit offering (FinSMEs)
Cognishape, an online training program that keeps older adults sharp, creative and socially engaged, raised a $1M Pre-Seed round to help older adults with cognitive decline (CTech)
---
Around the World
Bengaluru-based Mojocare, a full-stack health and wellness startup, raised $20.6M in a Series A round to expand its product, content and care delivery teams (YourStory)
Bulgarian telehealth startup Healee brings in $2M to expand its configurable digital health solution in the United States (tech.eu)