To Europe and Beyond!
It's been a particularly exciting month for Agetech. While the vast majority of VC dollars continue to be invested in the US, other markets have started to blossom as seen by a £260M investment into UK-based home care technology startup Cera. Given how the European Agetech ecosystem of startups & accelerators has been growing, this announcement comes as no big shock—and although we'd be surprised to see another international funding top Cera's this year we fully expect it to be dwarfed in those to come.
In other good news, the late stage funding drought last month turned out to be an anomaly rather than a trend. August, a traditionally slow month for startup fundraising, saw a bunch of Agetech deals and even minted a unicorn in staffing startup Incredible Health. Despite the harsh funding climate slowing deals in many venture sectors, Agetech appears to be making it through unscathed.
---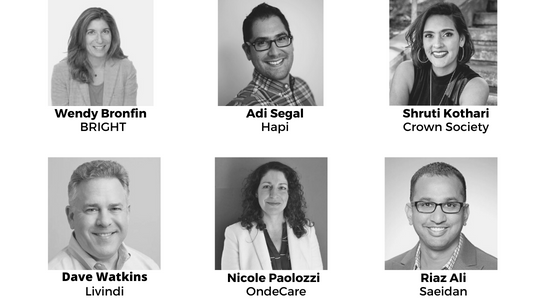 Last month we launched the Agetech News Founder Series Podcast to get a glimpse of the disruptions that are coming and spotlight the individuals making it happen. You can find the first six episodes wherever you listen to your podcasts—and stay tuned each Friday as we introduce more founders!
---
August Highlights
Cleerly raised $192M in Series C funding led by T Rowe Price and Fidelity Management and Research Company for its technology that catches heart disease earlier (MobiHealthNews)
🦄 Staffing startup Incredible Health scored $80M in Series B funding, for a total valuation of $1.65B, in an effort to increase nursing retention (Crunchbase)
Homeward, a healthcare delivery company focused on rural healthcare, announced a $50M Series B funding round (Mobi Health News)
Diagnostic Robotics, provider of Artificial Intelligence & Care Management solutions for Healthcare plans and providers, closed a $45M Series B funding round which will be used to accelerate product development, go-to-market growth, including investment in sales and marketing and other key hires (PR Newswire)
MedMinder, the leader in connected pharmacy care for polypharmacy and senior patients, closed an additional $35M in funding through a credit facility (PR Newswire)
Arine, a medication intelligence company raised $29M in a Series B funding round to advance the capabilities of its platform to enable value-based care at scale (HIT Consultant)
KeyCare­, a telehealth platform developed with medical records provider Epic Systems, nabbed $24M in Series A funding (Fierce Healthcare)
Text-based virtual care company 98point6 scored $20M to scale its new licensing offering (Mobi Health News)
Virtual care and digital medicine provider, Biofourmis, raised an additional $20M in Series D financing to build digital companion therapeutics to augment existing and upcoming novel therapies (FinSMEs)
Digital wellness startup Mojocare scored $20M in Series A funding (YourStory)
Virtual care coordination startup CareHarmony collected $15M in Series A funding as it seeks to help hospitals embrace value-based care (Axios)
Senior insurance navigator Fair Square Medicare garnered $15M in Series A funding to launch new services to help seniors find and schedule appointments with preferred providers (Axios)
Maximus, a consumer telemedicine company for men's health and hormone optimization, raised $15M in funding which will be used to expand its reach, grow brand awareness, and invest in product development (FinSMEs)
Olio Health, a platform designed to help value-based care payers and providers work to improve population health measures, raised a $13M Series A to improve integration (Home Health Care News)
Sage, a NYC-based technology company innovating care for older adults, raised $9M in Seed funding to expand its team, build out the platform, and scale its business reach (FinSMEs)
Narborforce, which connects older adults to a network of trusted "Nabors" for on-demand support and social engagement, closed a $9M Series A financing round (PR Newswire)
Craniometrix, a New York, NY-based developer of an Alzheimer's detection app, raised $6M from Quiet Capital, Defy.vc, Olive Tree Capital, Rebel Fund, J Ventures, Cathexis Ventures, and Y Combinator (TechCrunch)
RxLive, a provider of a tech-enabled marketplace of clinical pharmacists, closed a $5M Series A round (Catalyst)
Carefeed, a provider of cloud-based and HIPAA-compliant digital communication solutions, closed a $3M financing round to accelerate its Carefeed's expansion of its SaaS platform to skilled nursing and senior living communities (Mobi Health News)
---
Around the World
UK-based care platform Cera raised a £260M round of roughly half equity and half debt to grow the number of patients it supports by 500% and expand overseas (Sifted)
Patchwork Health, a digital platform that lets NHS teams recruit, manage and dispatch both temporary and permanent healthcare workers, raised £20m in Series B funding (UKTN)
Virtual care platform Suvera raised £5M in Seed funding to expand its team and services (Suvera)
WeWalk, a London-based provider of mobility products for visually impaired people, raised over £1.5M in funding to scale its business in key global markets and establish new R&D partnerships (FinSMEs)
---
Autumn event season is upon us! Max will be participating as a panelist at the upcoming Aging2.0 OPTIMIZE conference, taking place September 21-22 in Louisville, KY. The panel, The Business of Aging: Investing in Aging Innovation, will feature an open discussion with investors and entrepreneurs around investing in the aging innovation industry. Learn more and register to attend here.